When you are subscribed to InfinCE Phone System, you will be charged at the applicable rates for the following:
Phone rent (applicable for the purchased number)
Extensions at $1/user/month
Inbound & Outbound calls as per the applicable rate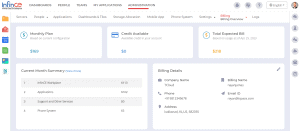 All details regarding your phone system billing are available in the Billing section. Click on your username at the top right to access billing.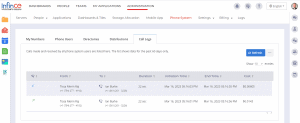 Get an overview of your phone usage including call history, duration, total cost, etc. by going to Administration > Phone System > Call Logs.