A digital workplace is a modern, virtual version of a traditional workplace that serves as a centralized hub for employees to collaborate, securely access or share data and execute business functions from anywhere, on any device, at any time, while driving competitive advantage, innovation, and sustainable business growth.
IN THIS GUIDE
What is a Digital Workplace?
Any discussion on the future of work is incomplete without mentioning digital workplace technologies. The modern workplace is no longer a physical space we need to go to. The rapid transition to remote work driven by COVID-19 and the increasing popularity of hybrid work models have spurred the evolution of digital workplaces.
Digital workplace software features the entire portfolio of applications, IT infrastructure, workplace technologies, and enabling services that power new ways of working and contribute to employee experience and engagement.
Digital workplace software equips employees to take full advantage of existing and emerging technologies for driving business outcomes, including digital transformation.
Simply put, a digital workplace is a virtual work environment in which your employees, scattered across diverse geographies, teams, and departments, can stay connected, access data, and do their work at any time of the day, using any device of their choice. You can enjoy the benefits of a digital workplace if you have a stable internet connection and a computing device (such as a laptop, desktop, tablet, or smartphone).
What are the Key Factors to Consider in a Digital Workplace?
Digital workplace success primarily relies on three important factors. They are:
1. People
A digital workplace is designed to meet the changing needs of the modern workforce. Millennials and Gen Z, who make up the world's largest working population, desire more flexibility in their work preferences (eg: remote or hybrid work models). The productivity and satisfaction of people should always take a front seat when planning digital workplace initiatives.
2. Technology
Robust technology is the backbone of digital workplace software. The growth of the internet, along with the technologies that stem from it, has decentralized work. Physical space is no longer required for employees to communicate or store, access, and share information in real time. A digital workplace should incorporate technologies that help bridge the gap between people and productivity, such as cloud and mobility.
3. Management
Strong and helpful management facilitates meaningful coordination between people and technology by driving a positive company culture. Management should make workplace technology more accessible for everyone and motivate employees to take full advantage of virtual collaboration solutions. This can go a long way in improving workplace transparency, accountability, and employee engagement.
What are the Essential Components of a Digital Workplace?
A typical digital workplace is an assembly of six basic components: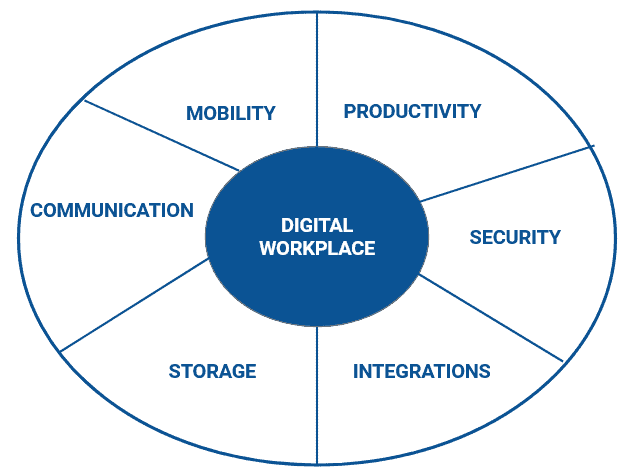 Broadly speaking, a digital workplace should offer all the essential features to navigate a specific workday.
1. Communication
Communication requirements in a workplace can be both synchronous and asynchronous. Collaborating with your team members in real-time or near real-time from a single location or multiple locations is critical for the success of your digital workplace. Synchronous or real-time collaboration is enabled through one-on-one voice and video calls, meetings with multiple participants, and live chat. Asynchronous communication that doesn't require instant action, allowing people to respond or update according to their availability, is also an important component of the digital workplace. The best example of this type of communication is email.
2. Mobility
The most striking feature of a digital workplace is anywhere, anytime accessibility which makes mobility an inevitable component of remote and hybrid work cultures. Your digital workplace should be accessible via authorized mobile devices (in the form of a mobile app or mobile website), especially when you are coordinating employees from multiple locations. Use stringent access controls to ensure that only the right users are logging into your digital workplace through authorized devices and login credentials.
3. Productivity
Popular productivity tools that help employees work efficiently, such as word processors, spreadsheets, presentation software, task management tools, calendar, etc., are a must-have digital workplace component. Productivity tools enable your team to easily manage their day-to-day activities and raise their efficiency.
4. Security
Digital workplace adoption implies shifting to a cloud-first, mobile-first workplace, where employees use many devices to accomplish tasks. This can expose organizations to potential cyber threats and security vulnerabilities. Digital workplaces offering virtual private servers (VPS) and virtual desktop infrastructure (VDI) help retain absolute rights over your data by employing advanced access controls, user permissions, and firewalls.
5. Storage
Sufficient storage is a must to handle both expected and unexpected workloads, whether your data is stored onsite in physical servers or uploaded to virtual cloud servers. There should also be a provision to scale storage on demand with ease as your organization grows.
6. Integrations
Work becomes more convenient and smart when all your productivity tools and collaboration apps can be accessed and managed from a centralized platform through a single sign-on. Handling multiple subscription renewals, maintaining separate login credentials for each software, and spending money on unused tools can be easily eliminated with centralized IT management. Through seamless third-party software integration, a digital workplace brings all the tools you need in one place to perform your tasks without any interventions and challenges.
Debunking 3 Common Myths About the Digital Workplace
Though digital workplaces are designed to make life easier and more productive for employees, only a few are aware of the benefits. Outdated views about workplace technologies prevent IT leaders and key stakeholders from providing their buy-in. Three common false assumptions standing in the way of digital workplace adoption are dispelled here:
Myth #1: Digital workplace adoption can happen without culture change
The pandemic expedited the adoption of digital workplace technologies, which made remote work mainstream. However, most organizations use digital workplace tools such as video meeting solutions and visual collaboration applications to emulate their existing communication and collaboration experiences instead of enabling new ways of working. This affects the productivity of employees.
Here's what you can do to address this challenge:
Nominate peer advocates and champions at the team level who can coach team members and support the cultural and process changes needed in a digital workplace.
Identify employees who need more encouragement or motivation. Demonstrate how the digital workplace is linked to their career advancement.
Develop a "our way of working" statement that helps employees select the applications they need for each scenario. This encourages them to use all of the functionalities you've implemented.
Myth #2: Workplace collaboration is always synchronous
Several business leaders still believe that true workplace collaboration occurs only when their employees are in the same place, working on a common task. In a hybrid world with frequently overlapping work schedules, asynchronous modes of collaboration equally impact team innovation. Employees forced to spend more time in meetings have proven that they can be as productive and innovative using modern asynchronous collaboration methods. For example, video meeting recordings and transcriptions are great time savers, as they reduce the need for meetings and allow employees to catch up on missed discussions.
Ways to promote asynchronous collaboration methods:
Use internal networking collaboration tools like employee intranet solutions to experiment with new collaboration styles, grow communities, and strengthen employee interactions.
Collaborative work management applications, such as online office tools, file collaboration, and simultaneous editing, drive the adoption of new collaboration practices, improve workplace transparency and accountability, and boost employee engagement.
Myth #3: Digital workplace and digital transformations are the same
The digital workplace is often used interchangeably with digital transformation. Both aren't the same. A digital workplace provides an engaging and intuitive environment for employees to collaborate virtually through a horde of workplace applications. It allows teams to leverage existing and emerging technologies to drive business outcomes. A digital transformation model exploits the latest digital technologies to create new business models.
A digital workplace is a key step in accomplishing the digital transformation. Prioritizing employee-centric workplace digital initiatives will augment your digital transformation agenda.
Understand what could enhance your employee experience and help them operate in a more engaging and intuitive workplace.
Choose a digital workplace software that's easy for your employees and managers to optimize when, where, and how the work gets done.
What are the Benefits of a Digital Workplace?
A digital workplace improves employee engagement in your organization by giving your teams the tools they require to connect, collaborate, and perform their core responsibilities at work. Here is why you should implement digital workplace software.
1. Flexibility to work remotely
The third edition of McKinsey's American Opportunity Survey reveals that 87% of people prefer to work remotely one or more days per week if given a choice. Remote work gives employees the flexibility and freedom to manage their core job responsibilities without being physically in their office workspace.
A digital workplace platform features all the collaboration tools you need to connect virtually with your colleagues and access your company data and applications online from any device, any location, at any time of the day. This will enhance your employees' job satisfaction, productivity, and work-life balance. Flexible work environments and schedules help employees get the most out of their workdays, as they can time-shift to perform work when they are most prepared.
2. More room for ideation and innovation
Smart and reliable virtual collaboration tools cut down meeting times, reduce delays in peer-to-peer communication, strengthen employee-management relationships, and give teams more room for ideation and innovation. Better workplace coordination infuses a collaborative culture in your organization that helps churn ideas that may not otherwise have been heard.
Instant feedback shared laterally between team members and vertically between the management and employees will improve your team's workplace morale and satisfaction. Employees ardently use their freed-up time for problem-solving and ideation when work becomes easier.
3. Lower operational expenses
There is no better choice than a cost-effective digital workplace to manage globally distributed teams. When you are spared from the need to pay multiple subscription costs and license renewal charges, your operating expenses decrease considerably. For example, a cloud-based digital workplace platform eliminates the need for costly on-premise servers and storage and the physical office space and IT resources needed to operate and maintain them.
4. Better data security, storage, and access
Digital workplace software leverages the power of the cloud and mobility. Cloud technology ensures secure storage and easy access/ sharing of data files from anywhere, at any time. The virtual work environment allows employees to access the right information they need and share their knowledge with a few clicks or taps.
Most digital workplaces are designed with built-in security measures. To protect your employees' personal identity and save your data from cyber attacks, you can implement additional security measures, such as strong password encryption and multi-factor authentication.
5. Transparent work environment
A digital workplace combines multiple components into a single suite, so your employees can perform their best with as few obstacles as possible. When everyone in your team is on the same page, you will get more time to focus on business and organizational goals. Sharing company news, success stories, culture posts, accolades, and recognition via the digital workplace platform improves team bonding, promotes a "family-like" environment in your workplace, and ensures all employees are aligned with your organizational culture.
How Does a Digital Workplace Transform Your Employee Experience?
Digital workplaces follow a bottom-up approach that considers all the daily challenges of employees and provides all the tools to boost the overall employee experience.
1. Facilitates modern workstyle
A digital workplace platform allows employees to work remotely with optimum productivity. Easy access to all information in one place, sharing the right information to the right people at the right time, collaboration tools, productivity applications, and all the necessary tools and technology for your remote employees ensure that their productivity isn't compromised.
2. Bring your own device (BYOD)
Millennials, who presently comprise the largest portion (38%) of the American workforce, prefer to work from their own devices because they feel more engaged, motivated, and comfortable. As long as your employees are connected to the internet, they can access their work-related data anywhere, on any device. The freedom to use any device they prefer improves your organization's employee experience.
3. Communication and Collaboration
Effective workplace collaboration is the key to business success and innovation. Ideas developed by a team of three or more people have a greater appeal than those developed by just one or two individuals. However, desk-side collaborations and conversations over lunch are practically impossible when you have a highly distributed workforce. A digital workplace platform is the best way to make collaboration and coordination an important part of your company culture. Using digital workplace software, you can set up internal communication channels for every team or department, making it easy for members to communicate with each other. It gives your team more time for innovation and ideation by reducing the duration and number of meetings they attend.
Why Choose InfinCE Over Other Digital Workplaces?
No digital workplace platform is 100% one-size-fits-all. Therefore, it's crucial to find a digital workplace solution that can be customized according to your company's needs and integrated with your existing workflows and third-party software tools, if any. To keep it simple and short, a digital workplace should augment your employee experience and work culture without disrupting your existing workflows and give you better results and ROI. This is where InfinCE makes a difference.
Whatever your use case may be – team communication, project management, document creation and sharing, managing information assets, video meeting, virtual collaboration, and more, InfinCE has everything you need to handle all aspects of your business. Here is a summary of the top InfinCE features.
Watch more: How InfinCE Digital Workplace makes work smart, efficient, and productive!
1. Built-in collaboration apps and productivity tools
Collaboration apps for employees to coordinate at work more efficiently, including employee directory, live chat, one-on-one voice and video calls, video conferencing, and private email.
A comprehensive suite of productivity tools that help perform your day-to-day organizational activities like task management, document creation, and sharing.
Ready-to-access online office tools: Documents, Spreadsheets, Presentations, and Calendars raise your employees' productivity. Employees can easily share and collaborate on documents and get the work done quickly.
Secure file sharing: Files can be securely shared between employees, but also between employees and non-employees using options like upload-only folders and password-protected files.
2. Custom dashboards to track insights and make decisions
InfinCE lets users create custom dashboards to help them keep track of what's happening in their project or team. It brings an effective way to communicate key business information in real-time and simplifies team collaboration.
InfinCE dashboards can be restricted to and contain just the information appropriate for the expected viewers. However, those viewers may be classified: as Organization, Department, or Team. An individual can create private dashboards for their sole use.
Unique standard tiles on the InfinCE dashboards allow sharing of different types of information, including news feeds, announcements, bookmarks, videos, notes, and more, in one view.
The dashboards consolidate data from various sources (such as other internal software apps) and display insights in charts, graphs, tables, and other formats.
3. InfinCE Mobile App
Download the InfinCE employee engagement mobile app on your iOS or Android device and stay on top of your work.
View dashboard updates, access work files, find contacts, join video meetings, and do a lot more with the intuitive InfinCE mobile app.
Customize the app's interface to reflect your branding and deliver a highly engaging experience to your workforce.
The mobile app is envisioned to help you perform all the functions that are available on your InfinCE Web, from anywhere, at any time.
Watch more: How the InfinCE Mobile App seamlessly enables a connected workplace!
4. Private and secure IT infrastructure
Private cloud infrastructure guarantees enterprise-grade security for your organization. It provides unmatched data security and powerful performance that your IT team can manage and monitor easily.
We offer dedicated virtual servers, so you don't have to manage your cloud platform separately. InfinCE private enterprise cloud gets renewed along with your subscription.
Virtual private servers improve corporate privacy because there is no sharing of your company data with third-party software vendors. InfinCE's secure digital infrastructure achieves this added protection through its inbuilt firewalls and encryption/password-based user access controls.
5. Custom brand your digital workplace
You can elevate your brand presence from your workspace to your customer front with InfinCE's extensive custom branding options.
Showcase your brand logo and colors at every touchpoint – internally and externally – such as your private email, website, digital workplace, company mobile app, and video meeting rooms.
Carve a unique brand identity that's both consistent and catchy through custom business email, white-labeled web and mobile apps, personalized smart workspaces, and branded video meeting rooms.
Reflect on your brand's purpose, values, strategy, and communication codes with InfinCE.
6. Curated application marketplace
InfinCE features a growing library of commercial and open-source business applications from several software vendors on its platform. Available applications come in categories suited to different business functions, such as CRM, ERP, project management, HRM, etc.
Subscribe and readily access all your essential enterprise applications with a single sign-on through the marketplace. Suggest any compatible software that can be added to the marketplace. Our developers also help you build special-purpose custom software.
Easily integrate all your business processes, reduce expenses, manage resources optimally, and engage with clients better to stimulate growth.
Stay on top of your software costs by avoiding multiple subscriptions and unused software tools.
7. Business phone system
InfinCE offers a complete cloud-based phone system for all your business communications.
Enjoy lower call costs per minute based on the time spent on calls. No cancellation fees are required.
An intelligent IVR system helps improve customer service efficiency, manage incoming call spikes, and increase customer satisfaction with auto callbacks.
Automated call distribution minimizes call waiting times by customizing call flow paths and diverting callers to the right agents.
Conclusion
A robust digital workplace drives real cultural change. It breaks down communication barriers, transforms employee experience, and fosters innovation and growth. From integrating email and instant messaging to virtual meeting software and custom business dashboards, InfinCE offers all the tools you need to implement an entirely new working environment that replicates your employees' changing work experience.
Connect with us today or request a quick 30 minutes demo now!