"User Storage" refers to storage used by individual users for their Files, plus the common storage for all the media files shared over Chat. By default, InfinCE allocates 2GB per user (which is the minimum), and a 5GB for all the Chat media (media files shared by users over Chat). Any allocation beyond the minimum is in your control and Administrator users of InfinCE can manage this for the organisation.
User storage management can be done under Administration > Storage Allocation tab. Refer to image below and read on for the details.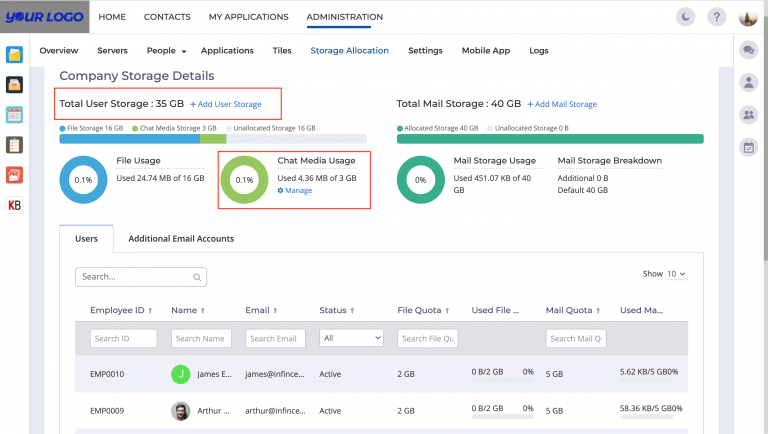 Allocation of Storage
The total "User Storage" that has been purchased can be considered to have 3 parts
Files Storage, which is the sum of all the storage allocated to individuals for their Files.
Chat Storage, which is a common pool holding all the media files shared over Chat.
Unallocated Storage, which is the portion of purchased storage that is free and has not been allocated for either of the two above.
Managing Files Storage
A unique and very useful feature of InfinCE is that it lets you have a differential allocation of Files storage across users (beyond the minimum 2GB). This enables you to utilise the purchased storage more effectively, without having to increase the quota across the board.
To increase the Files storage for a user, scroll down to his row below or Search by his/her name. Click on the user name or icon; this takes you to the profile page, from where you can edit the storage allocated to this user.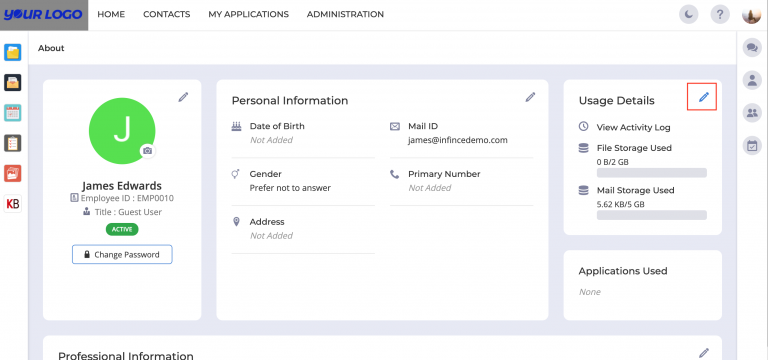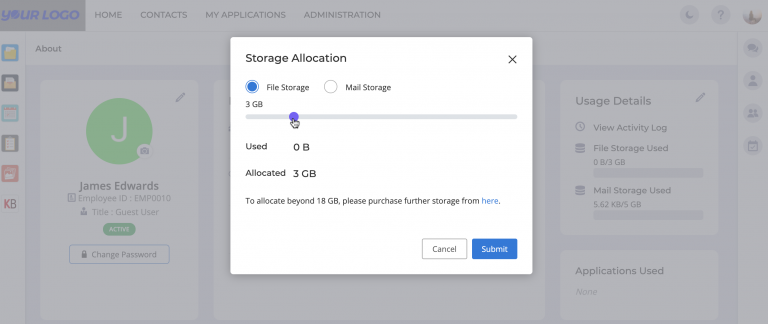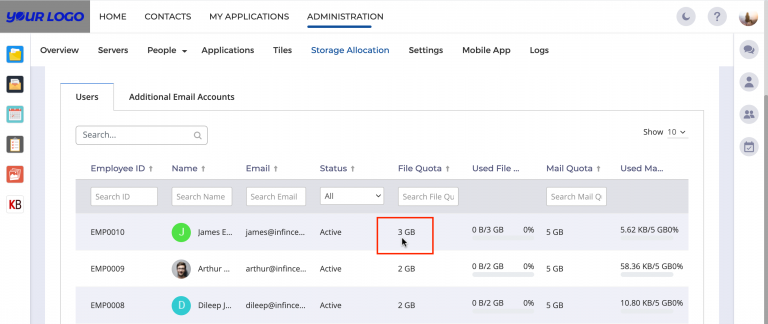 Please note that there should be enough unallocated storage available for you to be able to do this. If not, you may need to buy more storage (see below) before increasing a person's quota.
Similarly, you can also decrease the quota of any user.
Managing Chat Storage
Chat Storage is set aside as 5GB by default. Unlike Files Storage, this is a common pool, and is not at the user level. To increase/decrease this limit, click on the "Manage " link in the "Chat Media Usage" section.
In panel that pops up, you would have the option to adjust this storage. Please note that the maximum additional storage that can be allocated is limited by the "Unallocated Storage" available for you. Move the gauge to the desired level. Click on the "Submit" button to save your changes.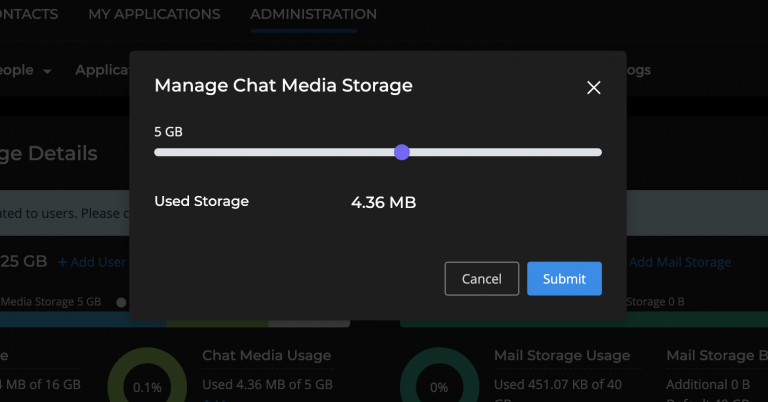 Buying more Storage
When you run of your "unallocated storage" and need more Files or Chat Storage, click on the "+Add User Storage" link at the top. On the panel that pops up choose the additional storage required. You can choose in multiples of 5GB, starting from 10GB. The rate per GB and the total cost for the additional storage are shown here.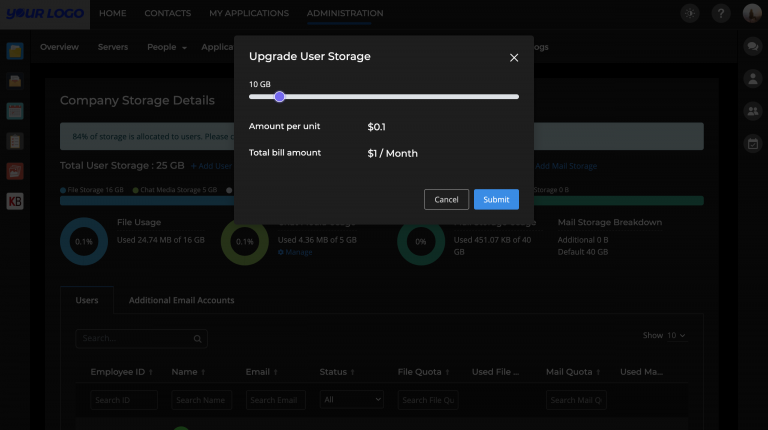 Click on "Submit" to purchase the additional GB. The additional amount would start showing up from your next monthly bill.
If you face any issues or have queries regarding the storage management or upgrade, please contact InfinCE Support.