InfinCE is a cloud platform built to run your business in a completely new way via information technology. This cloud-based software comes fully-supported, hassle-free, user-friendly and very much cost effective. Having InfinCE at your small business is like taking your business to the next step by simplifying the way you work and concentrate on your business growth. The efficient functionality of INFINCE combined with its user-friendly technology and flexible features allows you to manage everything from the simplest to the most complex, in a convenient and comfortable manner.
Why should a small business opt for InfinCE?
"A big business starts small," said Richard Branson. The road to becoming large-scale for broadening services and reach begins with finding and deploying the right technology solutions. Technologies like the cloud have turned out a major disruptor and undergone widespread adoption by businesses, big and small.
Compared to on-premise technology, cloud platforms have global accessibility, secure infrastructure, and reduced spending. INFINCE brings the cloud advantage within reach of small businesses through its –
Simplified Cloud-based Technology – Set up your own website and email with just a few clicks.
Efficient Office and Collaboration Tools – Collaborate efficiently, share documents quickly, and bring your workforce together from different locations.
Secure & Private Preconfigured Cloud – Privacy and security for your data on secure private virtual servers.
Curated Applications Marketplace – Click and buy business applications from a growing list of applications including CRM, CMS, and HRM solutions, hosted on secure cloud environments and dedicated to your need.
Single Sign-On Accessibility  – Single Sign-On enables you to have unified access to all your business software.
Concierge IT Services – Enjoy seamless IT with hosting, maintenance, and updates managed by a dedicated team.
Seamless User Interface – Intuitive user experience for beginners.
Enhanced Mobility – User mobility with mobile apps for smartphones and tablets with white labeling.
24/7 Technology Support – Highly dedicated support team with an email, live chat, and phone support.
Related Reading: INFINCE Presented with the 2018 Great User Experience Award
How to Deploy InfinCE in your Business
The process displayed below will help you to know how easily INFINCE can be set up and made ready for use in your organization.

Collaboration Tools in InfinCE
InfinCE is a one-stop solution that integrates an array of tools with the capability to do multiple things.

Applications – On Purchase
Apart from the collaboration tools, you have the option to purchase applications for specific business needs.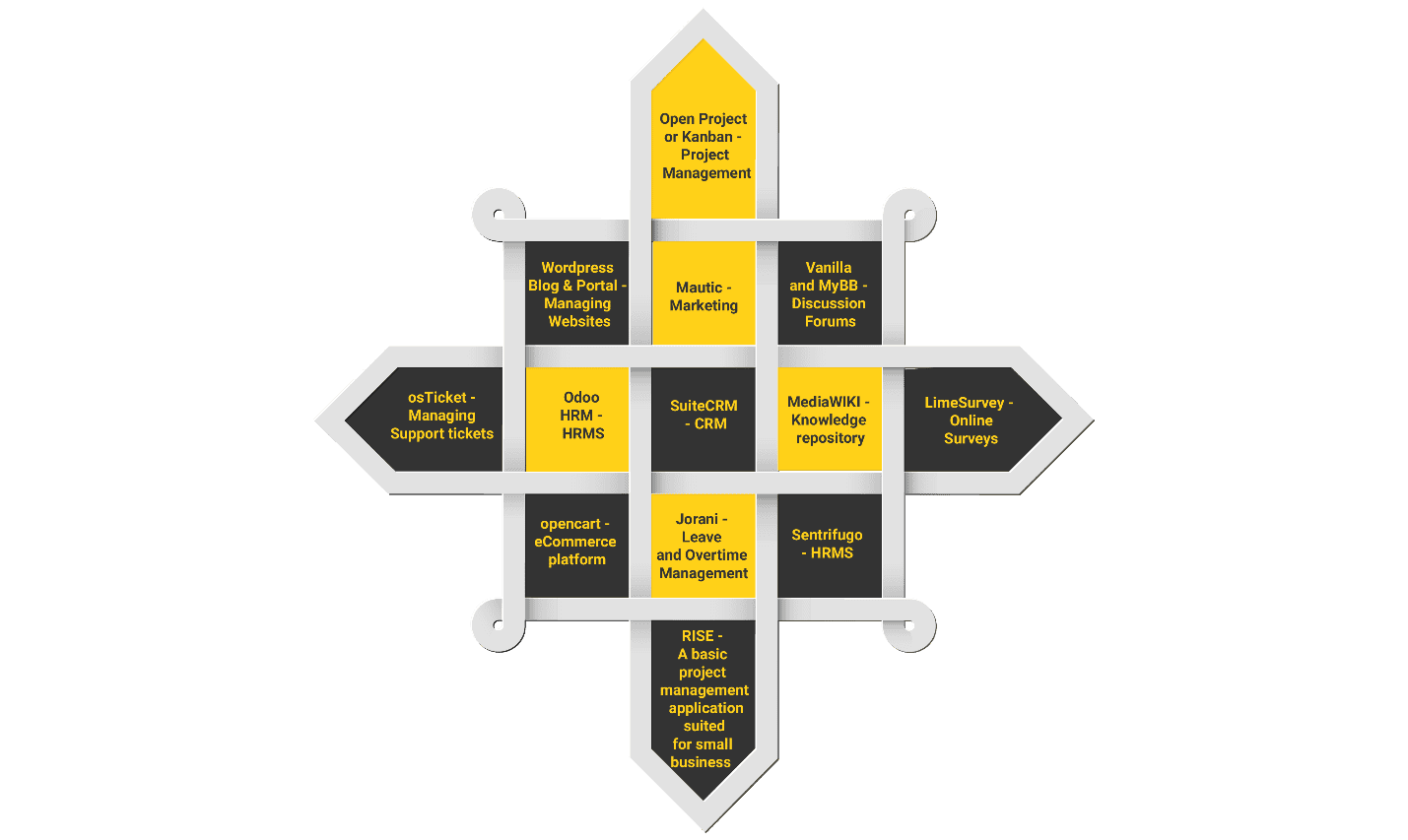 How will InfinCE Help your Business?
Small businesses need to execute their projects in a very efficient and economical way. They can boost their productivity and efficiency with INFINCE as their preferred technology partner. INFINCE helps project teams get their work done faster, no matter how or where they work. The cloud-based solution brings dispersed teams together as they work through planning, managing tasks, allocating, tracking, document management and other functions.
Collaborative Work Environment
Collaborate with all the team members. (i.e. internal, external, remote, and distributed team members)
Virtual workplace enhances collaborative project planning and better work streams
Real-time chat and communication with team members
Manage, share, and sync project calendars with personal calendars of members
Helps individual team members keep commitments by having personal task lists and deadline reminders
Conduct online meetings
Centralized data, documents, and contacts allow cross sharing between the team
Access virtual workplace to view project information through mobile/computer
Automated Planning and Scheduling
Create virtual project teams with geographically dispersed members (i.e. internal, external, remote, and distributed team members)
Better define and manage project requirements
Efficiently schedule task duration, milestones, and deadlines
Digital Asset Management
Keep everyone updated with version control, change tracking, and document history
Easily secure file sharing between all team members from different devices
Manage and archive project files securely in a structured and accessible way
Have a good document repository for uploads and attachments
Server Properties
Managed, private and secure server for everyone
Separate dedicated server for each organization
Flexible and convenient to use by all
Stable and consistent
Back-up options
User management
User permissions and roles
User Roles
User Groups
How to Manage Tasks using InfinCE
List, assign and prioritize tasks based on deadlines and dependencies
Update task list status, organize, track and make visible to the team
Personalized task management for individual team members
Ability to oversee the tasks that are overdue, ongoing and planned
View and analyze day-to-day tasks and progress across teams and projects
Execute multiple projects with better quality, on time and efficiently
Related Reading: A Guide to Effective Cloud Migration
Who Will be Benefited Most Out of InfinCE?
Construction Firms – A construction company to share client estimates, project plan, layout between the employees and clients as well as assign tasks to employees.
Legal Services Firms – A legal firm to share case details between the lawyers and clients.
Small scale Manufacturing – Small scale manufacturing companies to assign tasks, share documents, communicate between teams, and view product timelines.
Marketing & Consulting Firms – Marketing and consulting firms to manage and collaborate tasks on different campaigns and project. Allows task scheduling, monitor time spent and measure ROI on all marketing projects.
Health Clinics – Clinics can use INFINCE to manage the appointments of all the patients and store the patient's history.
Software Firms – For document sharing, task assignment, project management handling client calls, real-time chat, and marketing.
R&D Companies – R&D can have project management tools to ensure the smooth transfer of knowledge and technology to other groups or departments involved in innovation, file transfer and file management.
Insurance Firms – Insurance companies to enhance their performance, more products can be sold and retain customers by keeping the project on track, easy transfer of lead details, schedule tasks between employees and much more.
As a secure and economical cloud platform, INFINCE is the right choice for businesses running on limited capital. With its potential application stretching across a swathe of different industries, INFINCE brings the simplicity of the cloud and resources configured for optimal performance that elevates workforce productivity.  Get in touch with us today to deploy INFINCE at your business.