Changing market patterns, rising consumer demands, and gaining a competitive edge against the big fishes in the market have forever been challenging for small businesses. But as the economy tries to recover from the recent pandemic-driven recession, SMBs are predicted to foresee more challenges up ahead.
Since February 2022, inflation is known to have increased by 2.47% worldwide, making it the top challenge for SMBs in recent quarters. Subject to this, small businesses are now desperately trying to up their game by providing unique customer services, improved customer relations, and enhanced operational efficiency. However, COVID-19 issues stay relevant, disrupting the work patterns and productivity and creating a significant concern over employee safety, wellbeing, and morale.
Adopting the right technology seems like the only key to sustainability and resilience for small businesses. Yet, 80% of small businesses are not fully utilizing available technology.
Why?
This blog will take you through the top 10 challenges small businesses might face while adopting technology in 2022 and ways to tackle them. But before that, let's look at how technology can benefit small businesses.
Top Benefits Of Technology For Small Business Owners
Considering today's market challenges, small businesses must primarily prioritize: customers, employees, work efficiency, and profitability.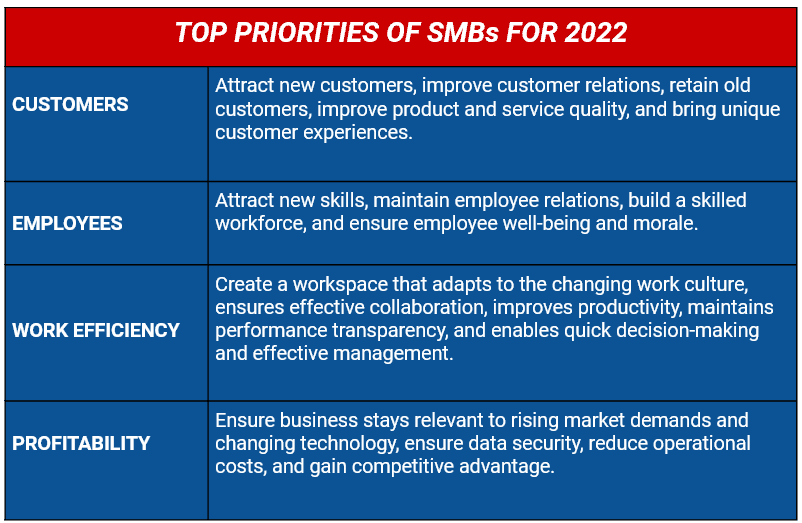 How can technology help achieve these priorities?
The rising capabilities of the cloud, artificial intelligence, and automation are impacting businesses tremendously, enabling operational efficiency, reducing human labor, promoting transparency, quick decision-making, and much more. Here's a look at the top benefits small businesses can gain with the right technology.
"90% of CEOs believe the digital economy will impact their industry, but less than 15% are executing on a digital strategy."
                         — MIT Sloan and Capgemini
Here's a look at the benefits of technology for small business owners:
Operational Efficiency: With tools to effectively collaborate, communicate, quickly track performances, and keep everyone on the same page, technology today contributes majorly toward operational efficiency.
Improved Productivity with Automation: Eliminate redundant tasks with automation to save time and focus energy and resources on essential matters.
Better Storage Solutions with Data Security: Deploying the rising capabilities of the cloud companies can resolve the most eminent issues of all – data storage and security.
Remain Future-ready: With the changing market, especially work cultures, staying equipped with technology makes companies relevant and future-ready.
Enhanced Customer Experiences: Woo today's customers with services at their fingertips in no time with technology.
Lower Cost and Improved Efficiency: Save costs on multiple resources, reduce downtime, improve efficiency and drive ultimate ROI.
Digital Transformation: Deploying the right technology tools from the start of a business gives much ease to transform digitally and deploy rising technologies with time.
Why are small businesses still reluctant to adopt new technologies despite the benefits? Here's our pick of the top 10 tech challenges small businesses face in their technology journey!
Top 10 Technology Challenges Of Small Businesses
Choosing the right software
Complexities with new technology
Easy accessibility
Keeping up with updates & integrations
Information security
Staying relevant to today's changing work culture
Difficulties in integrating with existing systems
Offering employees a unified user experience
Cost concerns
Getting the right advisory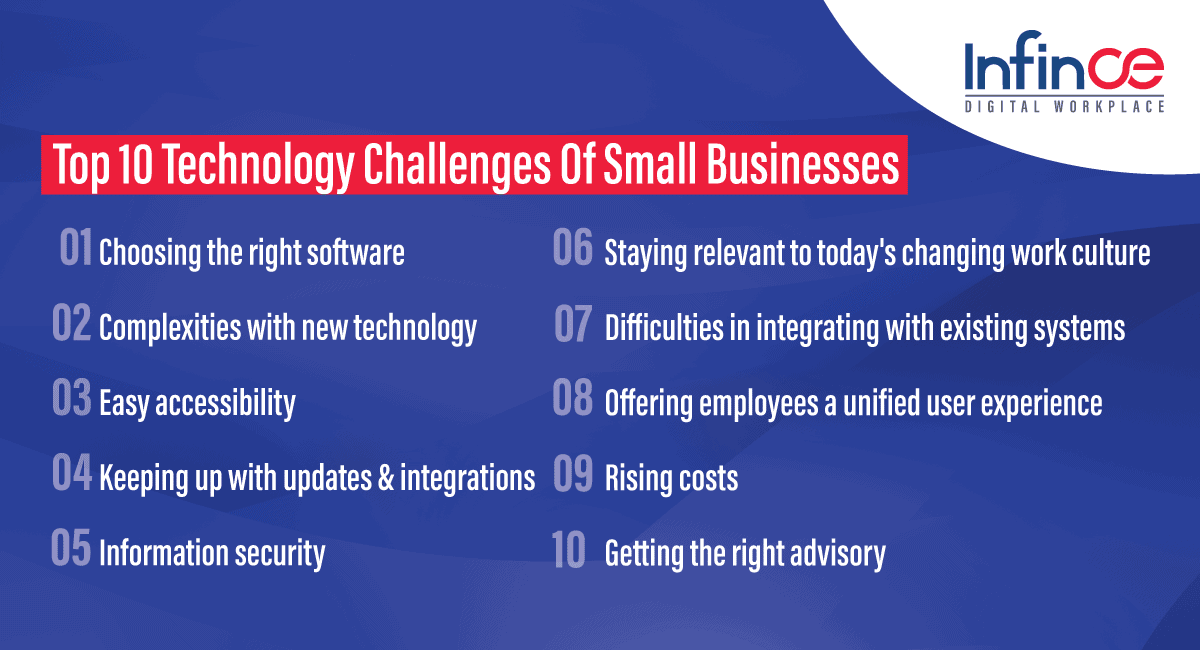 1. Choosing the right software
With thousands of vendors out in the market, selling more or less the same features, choosing the right software or technology solution itself becomes a major challenge. This challenge is especially major for small businesses due to the lack of proper information they are offered by the software vendors. Plus, today's competitive work environment might prompt adopting multiple tools cause it's hard to find all you need in one platform. But of course, investing in all the products that look suitable is quite unreasonable.
Tackling the challenge: It's crucial that before SMBs make their decision on purchasing software, they thoroughly analyze their technology needs and identify their technology opportunities. Merely adopting technologies to match the competitors can result in huge losses, especially if your company is new to the digital transformation journey. Thus, choose a platform that quickly adapts to your ecosystem, is scalable with your changing business needs and tech capabilities, and can satisfy all your tech needs through a single platform.
2. Complexities with new technology
Adapting to a new digital tool takes time, be it a subtle or advanced technology. This is one reason why SMBs with fewer resources, less time, and more to achieve often hesitate to deploy new technologies. However, the right technology will eventually blend into your routine, making tasks more efficient and time-saving. But a technology that complicates your workflow further cannot be called the right solution.
Tackling the challenge: Invest in a technology that's user-friendly, easy to navigate, can quickly be set up and get started with, and closely aligns with your workflow. Although, as mentioned before, the first few days of implementing new technology are always rough. Thus, try and invest in technologies that come with a tech consulting service or partner who can walk your company and your workforce through the transition.
3. Easy accessibility
Another reason why small businesses are reluctant to adapt to new technologies is due to a lack of accessibility. Tools or software that can be accessed from only certain premises limits its benefits and usability. Especially for SMBs that need their business up and running from anywhere are likely to lose interest in a platform that limits feature accessibilities.
Tackling the challenge: An apt software for small businesses would be the one that provides secure access to data, productivity tools, dashboards, performance metrics, and other features from anywhere. A platform enabling easy tracking, quick decision making, and effective and centralized IT management from anywhere can be called an ideal technology for small businesses. Plus, mobile support and accessibility are like the cherry on top of the cake!
4. Keeping up with updates & integrations
Most technology platforms come with subscription schemes that, after a while, turn out costlier than expected. There are monthly updates and integrations that one needs to keep up with, or it might affect the effectiveness of the tool. Imagine if you are using multiple apps for your business. Tracking the updates, subscription expiry, and integrations of all the tools would turn out to be a whole new task in itself, challenging the entire workflow and business effectiveness.
Tackling the challenge: Investing in a unified solution that integrates multiple features or functionalities into a single platform would be the best way to avoid such drawbacks. When you have all that you need under one platform, you have more visibility and can better manage your updates & integrations.
Read more: Why Does Your Business Need An Intelligent Digital Workplace?
5. Information security
Information or data security is the most crucial challenge for businesses today. Ransomware attacks were up by 150% in 2020 and grew even faster in 2021. And over 28% of such data breaches in 2020 involved small businesses. Ensuring one's financial data, IP data, customer information, and other confidential data are safe can be challenging, especially when transitioning to new technology or using multiple apps. The fear of loss to such threats restricts small businesses from deploying new technologies. Also, secured data storage is often a concern for many companies
Tackling the challenge: Utilizing technology solutions that are known to provide effective data security would be the best way to tackle this challenge. Cloud technology is emerging to be most effective when it comes to information security and data storage. Thus, ensure to invest in technology platforms that guarantee data and IT security through virtual private servers, advanced firewalls, and access controls.
6. Staying relevant to today's changing work culture
The changing work culture today is adding to the tech challenges of small businesses. Companies can no more fix solutions that are strictly apt for office workflow or remote work environments. However, the sudden and inevitable shift to remote work culture has shown an increase in the adoption of technology among small businesses. And that's why it's imperative that SMBs choose the right platform.
Tackling the challenge: Be it remote, hybrid, or office work culture, work efficiency, and productivity is what counts at the end of the day. That's why it's imperative that SMBs focus on technology that promotes effective collaboration, instant communication, easy and secured accessibility to tools and data, business transparency, and effective and centralized IT management from anywhere.
7. Difficulties in integrating with existing systems
Companies that may be using outdated systems are often reluctant to switch to new technologies, as this would need them to upgrade their entire ecosystem, losing time, money, and resources along the process. However, the reluctance or limitation to adopting newer tools and technology might end up affecting smooth functioning with clients and vendors or even a new digital opportunity.
Tackling the challenge: If your company is new to digital transformation, then choosing a platform or technology that scales with time is highly recommended. A platform that enables seamless third-party integrations and custom integrations will benefit in the long run. And if you are already using a technology that limits integrations, then it's never late to shift to a solution that enables flexibility.
8. Offering employees a unified user experience
With staff working from various locations today, it has become challenging to keep everyone equally engaged, motivated, and on the same page. Of course, technology is doing much to solve this challenge, but what happens when your staff starts complaining of accessibility issues, incorrect credentials, or server errors?
Tackling the challenge: With the cloud, one can now enable easy and secured access to tools, applications, data, files, and more from anywhere. One can also grant temporary access to clients and vendors for further smooth functioning and unrestricted operations. And when such cloud abilities are added with Custom Dashboards, employees can stay engaged, updated, motivated, and remain connected from anywhere.
Read more: Driving Employee Engagement In Today's Changing Work Culture!
9. Cost concerns
When running a business on a restricted budget, investing in technology platforms that may or may not be fully utilized for your operations might not be a wise choice. However, most SMBs end up paying on technology more than the benefits received, eventually prompting them to withdraw completely from the investment. That is why it's imperative to ensure that the technology you invest in is 100% effective for your business.
Tackling the challenge: Invest in a platform that allows centralized IT management. When you have all your data, IT assets, storage, and even employee & client management done from a single platform, through a single login, you gain greater visibility and control over your operational costs. Moreover, let's not forget the versatile storage management controls, enhanced security, and single sign-on convenience such a platform could bring to the table for your small business. Plus, in time, when you are thinking of expansion you can seamlessly and cost-effectively scale your server configurations and capabilities, and effortlessly power your business goals with technology.
10. Getting the right advisory
Most small businesses might not have an expert IT council or advisory panel within their workforce due to cost pressures. However, bigger organizations often have in-house technology advisory teams that can evaluate and select suitable technology solutions for their prevailing issues. For small businesses, getting the right IT advisory partner or consulting partner is often not considered an option for fear of escalating budgets.
Tackling the challenge: A tech partner is always an asset, whether a small or a big business. However, when the cost is a concern, it's rational to depend on technology that comes with tech support or a tech partner who can help with the implementation or transition. If not, it's always best to invest in a technology ecosystem with easy IT management, a quick setup process, and fewer or no complications when implementing.
In Conclusion!
The market is changing, and the competition is tough! If you need your small business to sustain and succeed, you need to invest in the right technology now! As discussed in this blog, deploying technology for small businesses might seem challenging. But if strategized the right way, it's the best step you'll ever take for your business. And that's why we have platforms like InfinCE that makes transitioning to technology for small businesses quicker, simpler, and smarter!
Read more: How An Integrated Digital Workplace Solution Helps Mitigate Remote Work Hurdles
InfinCE is a complete digital workplace that allows businesses of any size and domain to easily adapt and deploy the rising capabilities of the cloud so that they can stay competitive and future-ready. Along with seamless communication, effective collaboration, business transparency, data security, and centralized management, InfinCE creates a secure environment for remote, hybrid, and office work cultures.
What makes InfinCE unique?
Collaboration apps including video meetings, live chat & employee directory
Online office tools
Single sign-on
Custom dashboards
Application marketplace with custom integrations
Centralized IT management
Business Phone System with smart call management features
Virtual private server
Branded mobile app & more!
Read more: The Definitive Guide to Perfect Digital Workplace Solution
Transform your business with improved employee engagement and productivity.
Get in touch with our consultants today! Or just Sign Up for Free!